About the Measure Against Dumping in Imports of PU Synthetic Leather from / from Greece and Malaysia with 5903 GTP
With the Communiqué on the Prevention of Unfair Competition in Imports (No: 2021/15) published in the Official Gazette dated 26.03.2021, "fabric impregnated with polyurethane, plastered, coated or laminated-leather imitation / others" registered under the customs tariff position 5903.20 from / from Malaysia and Greece. It is aimed to open an investigation against the ineffectiveness of the measures as a result of the ex-officio investigations in the import of (PU artificial leather) and to determine the procedures and principles of the investigation.
It has been decided to prevent the property subject to investigation in the form of collateral in the amount specified in the following table until the investigation is completed: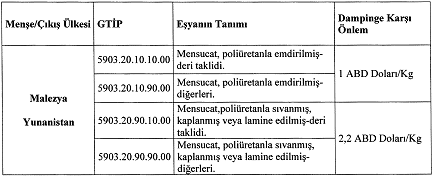 This communiqué entered into force on the date of publication, please CLICK to access the relevant Official Gazette.